Dr. Võ Tấn Phước
Head of Department
EDUCATION
M.Sc. and Ph.D. degrees from the Institute Polytechnique of Lorrain (INPL), Nancy, France in 2006 and 2009, respectively.
Research and Teaching Assistant (ATER) at IUT Nancy-Brabois in 2010 and Postdoctoral at Center Research for Automation Control of Nancy (CRAN), France in 2011.
RESEARCH INTERESTS
Hybrid and nonlinear systems control and observation
CONTACT
Room O2.206
Email: vtphuoc@hcmiu.edu.vn
Dr. Tôn Thất Long
EDUCATION
B.Eng. degree in 2007, M.Sc. and Ph.D. degrees in 2008 and 2012 respectively from the University of Manchester (UK).
RESEARCH INTERESTS
Nonlinear Control System
Nonlinear Observer Design
Computational Intelligence
CONTACT
Room LA2. 210
Email: ttlong@hcmiu.edu.vn
Dr. Đào Thị Phượng
EDUCATION
B. Eng from Faculty of
Information Technology & Communications, Can Tho University in 2002.
Ph.D.degree from School of Engineering, Computer and Mathematical Sciences,
Auckland University of Technology in 2020.
RESEARCH INTERESTS
Biomedical signal processing
Algorithms development and digital logic design.
CONTACT
Room O2. 206
Email: dtphuong@hcmiu.edu.vn
Dr. Nguyễn Văn Bình
EDUCATION
B.Sc. degree from the University of
Communication and Transportation (UTC – Vietnam) in 2001.
Master of Philosophy (MPhil) from the University of Sheffield (United Kingdom) in 2007.
Dr.-Ing degree in Electrical Machines and Drives from
TU-Dresden, Germany in 2015.
RESEARCH INTERESTS
Wind turbine control
Energy conversion
Robotic manipulation
control
Soft computing techniques
Smart sensor technology
CONTACT
Room O2.206
Email: nvbinh@hcmiu.edu.vn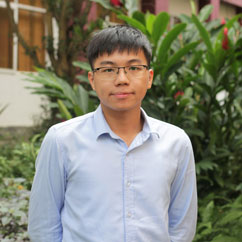 M. Eng. Trang Kiến
(PhD candidate at Monash University (Australia))
EDUCATION
B.Eng and M. Eng in Electrical Engineering from School of Electrical Engineering, International University, Vietnam National University – Ho Chi Minh City (IU – VNUHCMC), in 2018 and 2020, respectively.
RESEARCH INTERESTS
Signal Processing
Image Processing
Computer Vision
AI & Machine Learning
CONTACT
Room LA2. 109
Email: tkien@hcmiu.edu.vn